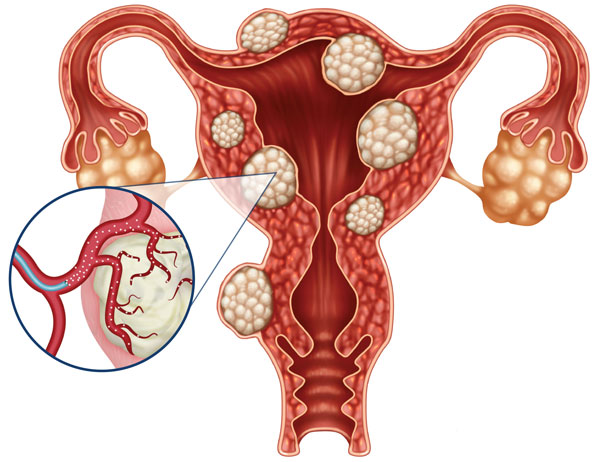 600,000 hysterectomies are performed in the United States each year.
More than 75% of them are unnecessary.1
Despite the fact that there are safer alternatives, hysterectomy is the most common treatment for uterine fibroids. In fact, 40% of all U.S. women will have had a hysterectomy by age 60.2
Unfortunately, hysterectomy comes with significant risks:
A 17-23% complication rate for the procedure itself3,4
A 60% increased risk of incontinence by age 605
A 4.6X greater risk of congestive heart failure6
A 2.5X greater risk of coronary artery disease6
Menopause approximately 2 years sooner7
Deteriorated sexual function8
Fortunately, there is a minimally invasive and effective alternative: uterine fibroid embolization (UFE).
UFE is a safe, proven and FDA-approved treatment for uterine fibroids. During the procedure, a specially trained interventional radiologist uses imaging guidance to thread a small catheter through your body to the site of the blood vessel feeding the fibroids. The vessel is then blocked, causing the fibroids to shrink and reduce the symptoms they are causing. The procedure is performed in less than an hour, requires only a small nick in the skin, and patients can return home within 24 hours.
Lakeland Vascular Institute physicians are among the most experienced in Florida at performing this procedure.
Women who undergo UFE have demonstrated a high level of satisfaction and a significant improvement to their quality of life, even over the long term.9.10 In a recent study of four randomized clinical trials comparing UFE to surgical interventions, UFE was associated with less blood loss, a shorter hospital stay and a faster return to work.11
UFE is covered by most insurance, and may be performed in an outpatient setting. For more information, please call 863-577-0316 or click here to download a brochure and information to share with your doctor.
References:
Source:
ABC News http://abcnews.go.com/2020/story?id=124229&page=1
CNN
http://www.cnn.com/2008/HEALTH/03/03/healthmag.hysterectomy/
Jeanette S Brown et al. Hysterectomy and urinary incontinence: a systematic review The Lancet, 12 August 2000
Makinen J, Johansson J, Tomas C, Tomas E, Heinonen PK, Laatikainen T, et al. Morbidity of 10 110 hysterectomies by type of approach. Hum Reprod. 2001;16(7):1473–8. [PubMed]
Harkki-Siren P, Kurki T. A nationwide analysis of laparoscopic complications. Obstet Gynecol. 1997;89(1):108–12. [PubMed]
Jeanette S Brown et al. Hysterectomy and urinary incontinence: a systematic review The Lancet, 12 August 2000
Laughlin-Tommaso SK et al. Cardiovascular and metabolic morbidity after hysterectomy with ovarian conservation: a cohort study. Menopause. 2018 May;25(5):483-492. doi: 10.1097/GME.0000000000001043.
Association of Ovary-Sparing Hysterectomy With Ovarian Reserve Trabuco, Emanuel C. MD, MS; Moorman, Patricia G. PhD; Algeciras-Schimnich, Alicia PhD; Weaver, Amy L. MS; Cliby, William A. MD Obstetrics & Gynecology: May 2016 – Volume 127 – Issue 5 – p 819–827
Risa Lonnée-Hoffmann and Ingrid Pinas Effects of Hysterectomy on Sexual Function Curr Sex Health Rep. 2014; 6(4): 244–251. Published online 2014 Sep 14. doi: 10.1007/s11930-014-0029-3
Smith WJ, Upton E, Shuster EJ, Klein AJ, Schwartz ML. Patient satisfaction and disease specific quality of life after uterine artery embolization. Am J Obstet Gynecol. 2004;190(6):1697–1703.
Scheurig-Muenkler C, Koesters C, Powerski MJ, Grieser C, Froeling V, Kroencke TJ. Clinical long-term outcome after uterine artery embolization: sustained symptom control and improvement of quality of life. J Vasc Interv Radiol. 2013;24(6):765–771
Laughlin SK, Schroeder JC, Baird DD. New directions in the epidemiology of uterine fibroids. Semin Reprod Med. 2010;28(3):204–217