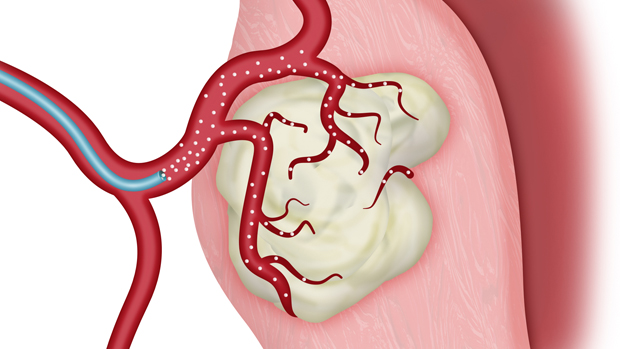 By Lakeland Vascular Institute Physician Team
For women with heavy menstrual bleeding and pain caused by uterine fibroids, there is now a viable alternative to surgical hysterectomy.
Uterine fibroid embolization (UFE)—also referred to as uterine artery embolization (UAE)—is a potential treatment for women with large fibroids who are not likely to become pregnant, but wish to keep their uterus. Those who undergo this effective treatment alternative demonstrate a high level of satisfaction and significant improvement in quality of life, even over the long term.1,2
On average, about 40% of women develop uterine fibroids by age 35. However, this number increases to 60% among African American women.3
The biggest advantage of UFE over hysterectomy is the potential to avoid surgical complications, such as postoperative pelvic hematoma or infection, vaginal cuff rupture, injury to the bladder, bowel or ureter, or neuropathy. Additionally, UFE does not require general anesthesia and does not result in pelvic scarring. In a recent study of four randomized clinical trials comparing UFE to surgical interventions, UFE was associated with less blood loss, a shorter hospital stay and a faster return to work than surgery.4
UFE is also ideal for women who have previously undergone myomectomy but whose fibroids have rapidly returned. Since UFE cuts off the blood supply to all fibroids, the results are longer lasting.
During the procedure, a small nick is made in the skin and a catheter is inserted into the femoral artery, which is then guided to the blood vessel feeding the fibroid. Tris-acryl gelatin microspheres are injected into the blood vessel, which effectively block blood flow into the fibroid, causing it to shrink. Performed on an outpatient basis, UFE takes less than an hour and the patient may return home in less than 24 hours.
Lakeland Vascular Institute interventional radiologists are among the most experienced in central Florida at performing this procedure. For more information, including a brochure you can share with your doctor, please contact us at 863-577-0316.
---
Smith WJ, Upton E, Shuster EJ, Klein AJ, Schwartz ML. Patient satisfaction and disease specific quality of life after uterine artery embolization. Am J Obstet Gynecol. 2004;190(6):1697–1703.
Scheurig-Muenkler C, Koesters C, Powerski MJ, Grieser C, Froeling V, Kroencke TJ. Clinical long-term outcome after uterine artery embolization: sustained symptom control and improvement of quality of life. J Vasc Interv Radiol. 2013;24(6):765–771
Laughlin SK, Schroeder JC, Baird DD. New directions in the epidemiology of uterine fibroids. Semin Reprod Med. 2010;28(3):204–217
van der Kooij SM, Bipat S, Hehenkamp WJ, Ankum WM, Reekers JA. Uterine artery embolization versus surgery in the treatment of symptomatic fibroids: a systematic review and metaanalysis. Am J Obstet Gynecol. 2011;205(4):317.e1–e18.